About me
Charli James is a Paris, France-based journalist specializing in dynamic live and taped video. She is experienced in all aspects of news video production including on-air reporting, producing, shooting and editing.

---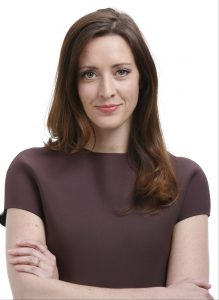 My media career began in 2002 as a high-school intern for WSVI News in the Virgin Islands. I received my bachelor's degree in broadcast journalism and government from American University in Washington, D.C., where I also interned at "Meet the Press" with Tim Russert.
After more than 10 years in New York City, in June 2017 I moved to Paris, France and am currently an anchor and reporter at France 24 English contributing to live international news reports, as well as producing and editing packages.
In May 2015 I became the first digital on-air correspondent for ABC News. In this NYC-based position I responded to breaking news and reported on events using livestreaming technology for ABCNews.com and Facebook Live, as well as contributed to the network shows. While at ABC News I covered the Rio Olympics, the 2016 presidential race, Paris terror attacks, mass shootings in Charleston, Orlando and San Bernardino, the deaths of celebrities Prince and Muhammad Ali, and much more.
Prior to joining ABC News, I was a video producer for the media start-up Vocativ, creating video packages around hot-topic political issues for the company's MSNBC partnership and Vocativ.com.
In Fall 2014 I lived in Tokyo and participated in the inaugural session of the "Dateline Tokyo" journalism program with the Foreign Correspondents Club of Japan. My video "7-Minute Miracle" featuring the cleaning crew of the Shinkansen train system went viral and has been viewed over 6 million times.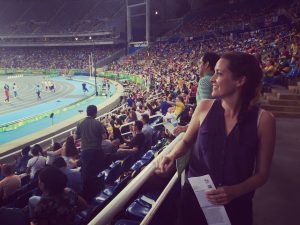 Before working in Asia, I spent 2.5 years as a segment producer for HuffPost Live, the Huffington Post's award-winning, first-of-its-kind online streaming news channel. In 2013, I won an NABJ "Salute To Excellence" award with host Marc Lamont Hill for coverage of gun violence in Chicago.
Prior to joining HuffPost, I was a video producer for Reuters where I helped launch the ReutersTV news channel partnership with YouTube. I also covered the 2012 Iowa Caucus, the 2012 World Economic Forum in Davos, Switzerland, New York Fashion Week, and was the lead producer on finance blogger Felix Salmon's web series.
Outside of work you'll find me eating, traveling, writing for my blog Am I French Yet?, improving my French, listening to podcasts, being competitive at basically anything, reading and coveting Shiba Inu dogs.
You can follow me day to day on Twitter.